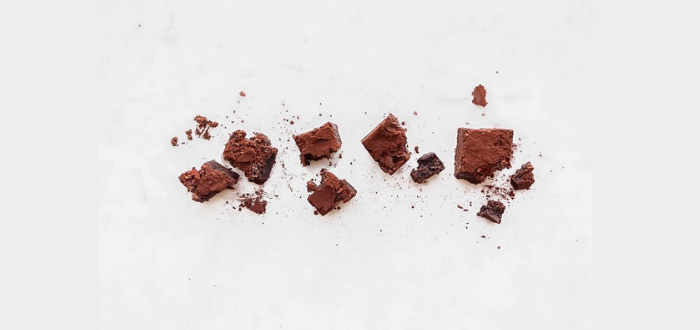 Cacao Black Bean Brownies
Have a chocolate craving but want a healthy alternative? These delicious healthy treats will hit the spot! They are gluten free, sugar free and packed with nutrition. Black Beans are an excellent source of protein, iron, thiamin, folate, magnesium, selenium, potassium, zinc and quercetin (which is an antioxidant).
'Black beans are sweet and warming. They act as a blood tonic, support yin and warm the lower back and pelvic region. They can be helpful to treat infertility and can be beneficial for women who experience painful periods or anyone with kidney weakness or lumbago.' – Professor Lun Wong.
Raw cacao has many  health benefits too. It's high in antioxidants, 40 times the amount of blueberries and is full of magnesium. Magnesium is important for a healthy heart, and helps turn glucose into energy enabling your brain to work with laser-sharp clarity and focus. Cacao is the highest plant-based source of iron known to man, at a whopping 7.3mg per 100g. This compares to beef and lamb at 2.5mg, and spinach at 3.6mg. It's really high in calcium, making excellent for bones. It's also a natural mood elevator and anti-depressant. A healthy diet is a self-care ritual that helps us perform our best and it doesn't have to be boring. Give these a try, they are delicious and super easy to make.
INGREDIENTS
2 cans black beans, drained & rinsed (I use organic ones)
1/2 cup liquid from the can of black beans
1/2 cup coconut oil, melted (MCT coconut oil is great as well)
1 tsp vanilla extract
1 cup raw organic cacao powder
1 1/2 cups packed coconut sugar
1 tsp baking soda
1/2 tsp sea salt
TOP
Handful chocolate chips (optional)
Method:
Preheat the oven to 180°C. Line a square 22cm baking pan and set aside.
Add all ingredients to a blender, combine all of the filling ingredients and blend until smooth. I did mine in 2 batches in the nutribullet.
Pour into the prepared baking pan and top with chocolate chips.
Bake in the oven for 25-30 minutes or until the top is completely dry and sides start to pull away from the pan.
Allow to cool at room temperature before slicing. Once cool cut into squares.
Serve with on their own or with vegan icecream.
I hope you enjoy these as much as I do.
Love Penelope x
P.S. They are SO delicious with Pana organic salted caramel vegan icecream.