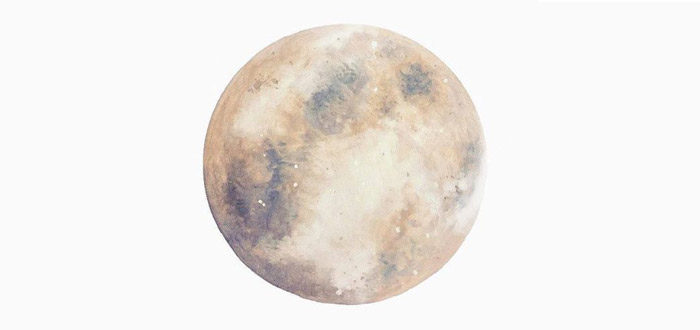 The full moon on 4th November falls in the sign of Taurus. This moon is a super moon and will be showering us with love and abundance, making it a very magical moon for 2017. It's the perfect time to turn our dreams into goals and our goals into actions. Whatever seeds you have planted at the last new moon, you will now be able to reap the rewards. The Taurus full moon will be delivering waves of abundance, prosperity, and love.
CHOOSE A CARD
Take a deep breath.
Think of a question in your mind.
Choose a card below which you are most drawn to.
Scroll down to reveal the messages.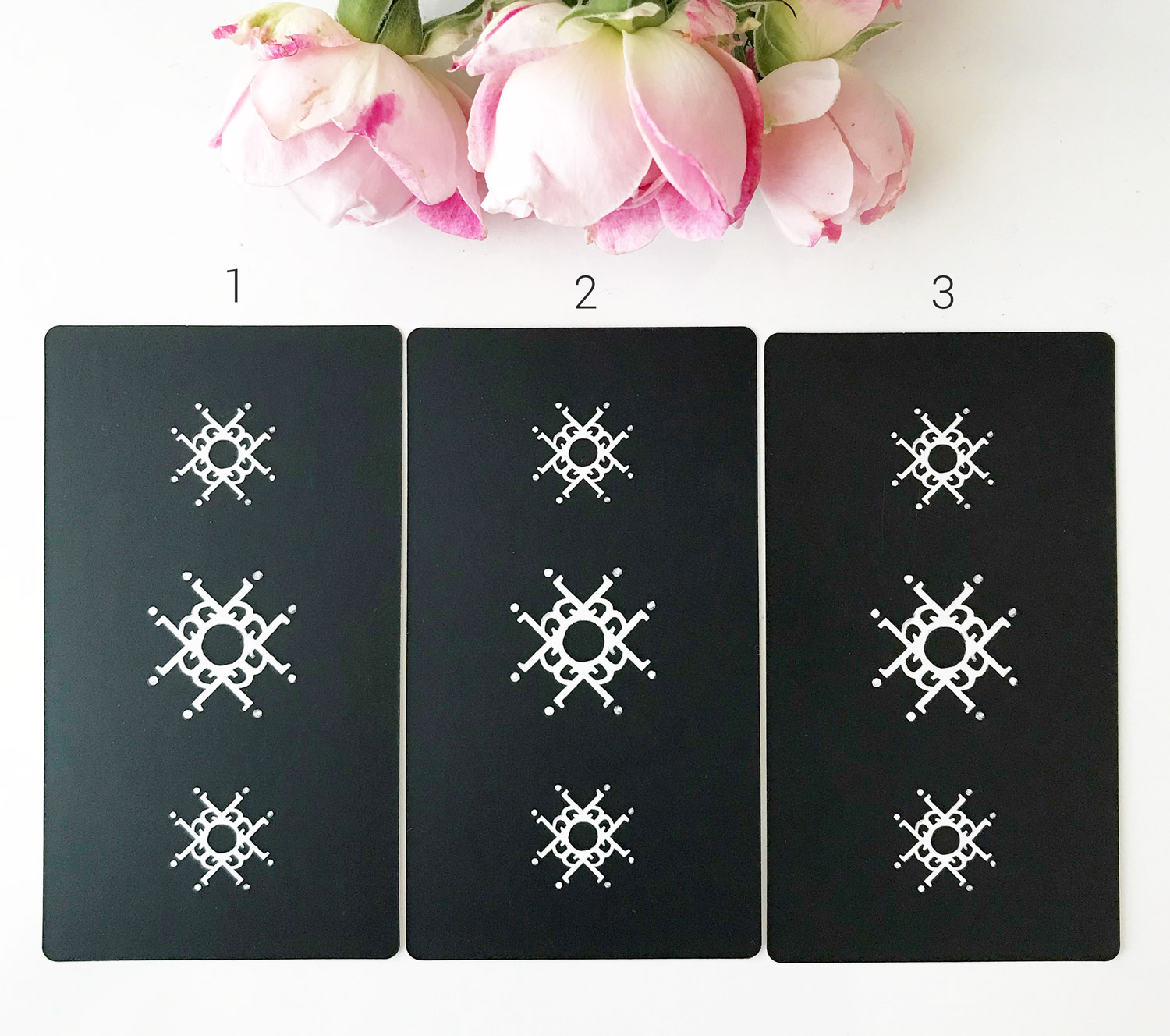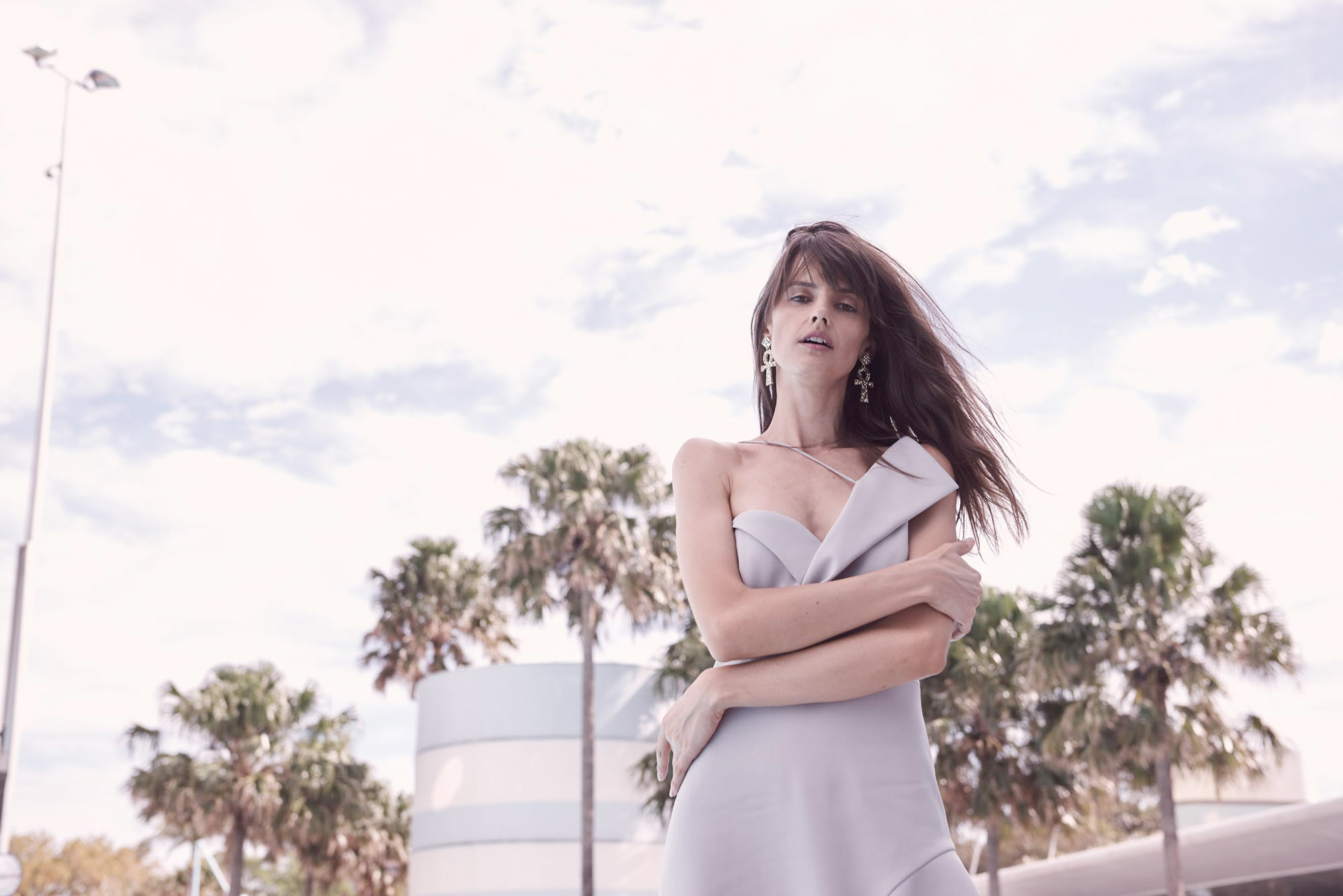 Stand in your true power and shine bright
Bring mystery and magic to your everyday and evening style with these divine Ankh Earrings.
The Ankh is an ancient and powerful Egyptian symbol of eternal life, representing fertility and a man and woman in perfect union. The Ankh is the key to hidden knowledge, wisdom and insight on the highest level. Handmade from luxe Perspex glitter, with sterling silver the Ankh Earrings are eye-catching, feather light and perfect for wearing from day to night.
I created these earrings as a reminder to balance your divine feminine and masculine energies within. By healing, honouring and integrating our inner divine masculine and feminine energies we will write a new future for ourselves, humanity and the planet. This is the energy of the Two of Pentacles in the reading below, finding balance in your inner world.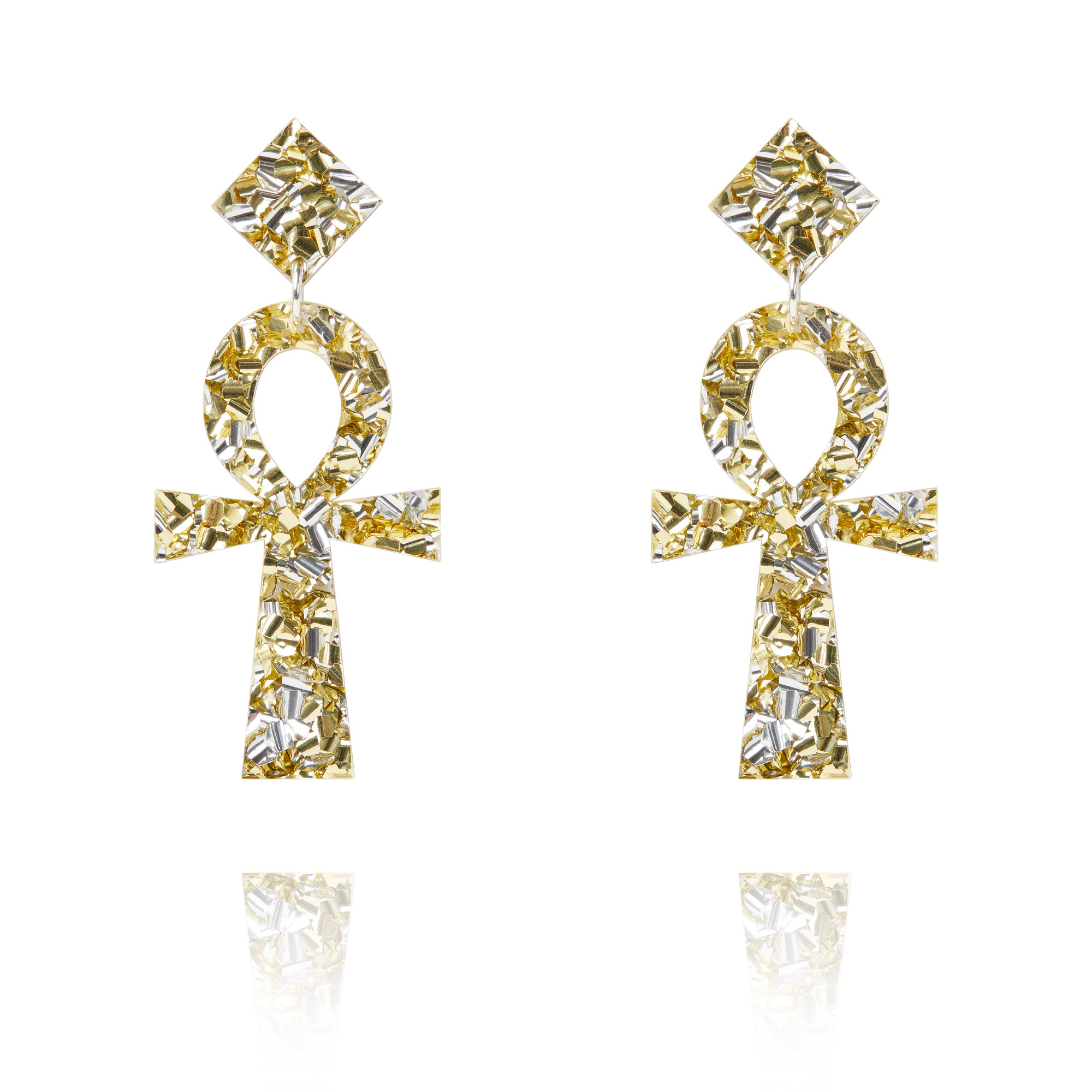 YOUR MESSAGES REVEALED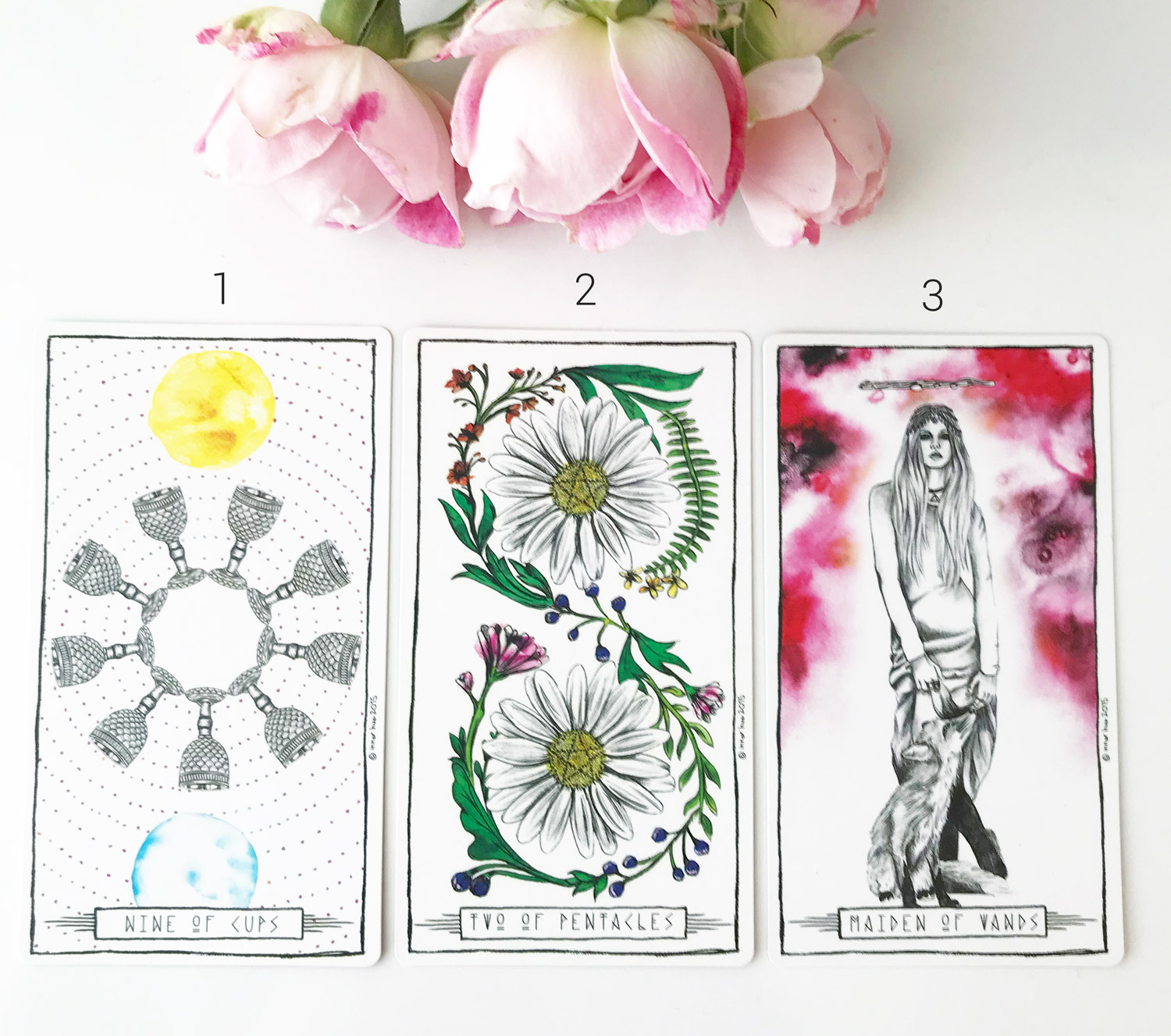 1. Nine of Cups – The Fruits of Alignment. A sign of harmony, abundance and satisfaction – you are now experiencing the emotional and material reward of going within and aligning yourself and your life. The Nine of Cups reflects happiness and dreams come true. The fears you once held in regard to whether you would succeed in creating a life that reflects your soul has now disappeared. You've done it! This is about counting your blessings, acknowledging the hard work you have put in, both spiritually and physically and having grown your life to the point you've now come to. Take a breath, your foundations are solid and your worries are in the past. Enjoy the deep sense of contentment that fills your belly and brings tears of joy to your eyes. This is an emotionally fulfilling time, indicating that relationships may be blossoming and blooming, friendships and business opportunities are solidifying and your finances are on the up and up. You have paved your way to success, and it's now about sharing and celebrating with others, enjoying life's pleasures. You have healed the past and are ready to powerfully create more of what your heart desires.
2. Two of Pentacles – Keeping an Even Balance. You are busy at work and play, juggling the many facets of your life, actively laying the foundation of what is to come. From your internal to external worlds you are feeling uplifted and yet stretched. The Two of Pentacles speaks of balance – and the finding of balance of your inside world your divine feminine and masculine energies within. When your inner divine masculine and feminine energy is balanced you listen to your heart and take inspired action, you surrender to the universe and trust that whatever ever happens is for your highest good. Connect with and listen to the energies of your projects, work and home life and move with their currents and tides. Keep the balance between your personal life and inner worlds and your work, visions and projects. It may be a time where it feels as though you take one step forward and two steps back, or two steps forward and one step back. Do not fret, this is what it is like to move with the creative currents of life. Trust that that will harmonise and balance out as you adjust to the blossoming changes in your life. Remain alert, aware, agile and connected to yourself and your visions. Keep your finger to your own pulse.
3. Maiden of Wands – Wild and Free. Change is in the air! You are feeling the fiery spark of enthusiasm with a drive to break free from anything that has you feeling heavy or trapped. You may begin to push the parameters of your life with a fresh perspective and a leading edge way of thinking. You are beginning to sense that a new adventure awaits and you're being asked to be both bold and grounded enough to step into this dynamic energy that your soul is ready to explore. You may feel the stirrings of a defining moment or decision nearing you, calling to embrace yourself and life with a level of lighthearted intrigue. You are encouraged to connect with and express your own sense of self, tapping into your pure potential and truth as the light to guide you forward. This card may come at a time when you are seeking freedom. Perhaps even tasting the kind of unbridled freedom that ignites you with abundant energy and sees you partaking in a variety of roles and activities where you can not only add value but also express your playfulness. It is time for you to set aside all the rules you have adhered to and to truely turn up for yourself in a transformative way. The Maiden of Wands has a passion for life and an unquenchable thirst for movement and action, always seeking new horizons and being a catalyst for change. She is a straight talking, genuine woman who thinks outside the square and doesn't like to be put in a box. With a diverse range of skill sets and a wonderful intellectual capacity, she is able to lead or fly solo. She is a valued member of any project and a welcomed sight at any event or gathering.
May you manifest so much love and abundance at this full moon.
Love and light
Penelope x
Cards – The Lumina Tarot.