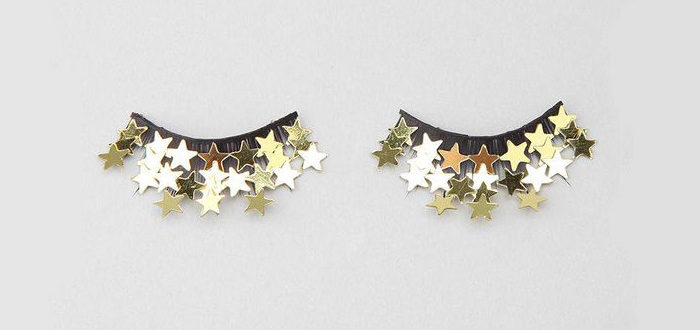 Today is the New Moon in Libra. Libra is the sign of balance, relationship, and justice. It is supported by grace, movement, acceptance, and peace.
'This new moon is extremely important. We are being asked to plant seeds, to let go of everything that does not serve us, to truly focus forward, and to soak in the present and all of the opportunities we have yet to meet.
This new moon is not only about accepting our current reality, but embracing it as well. We are here right now because we are supposed to be here right now.
We are being asked to make peace with our current circumstances. Whatever you are going through right now, you are being called to embrace it. Make peace with whatever is happening right this moment, even if it feels uneasy and unfamiliar. I can't say this enough: Whatever is happening right now, is supposed to be happening right now. 
We have to make a home where we reside, always. We have to accept what is, and have faith in what will be.
Even if things seem messy, chaotic, and uncertain, you have to take the path of least resistance — you have to keep moving forward.
Due to this moon being in Libra, we have all of the grace and peace on our side. We can gracefully let go of everything that isn't meant for us anymore, and we can forgive ourselves for all of things that never were. We can step into the person we have been this entire time with the utmost harmony.
This moon asks you to move with the change, seek the good, persevere through our scarcity, surrender to the unknown, and fall in love with exactly how things are.' – Leena Sanders
Let's see what messages the cards have for you at this new moon.
CHOOSE A CARD
Take a deep breath.
Think of a question in your mind.
Choose a card below which you are most drawn to.
Scroll down to reveal the messages.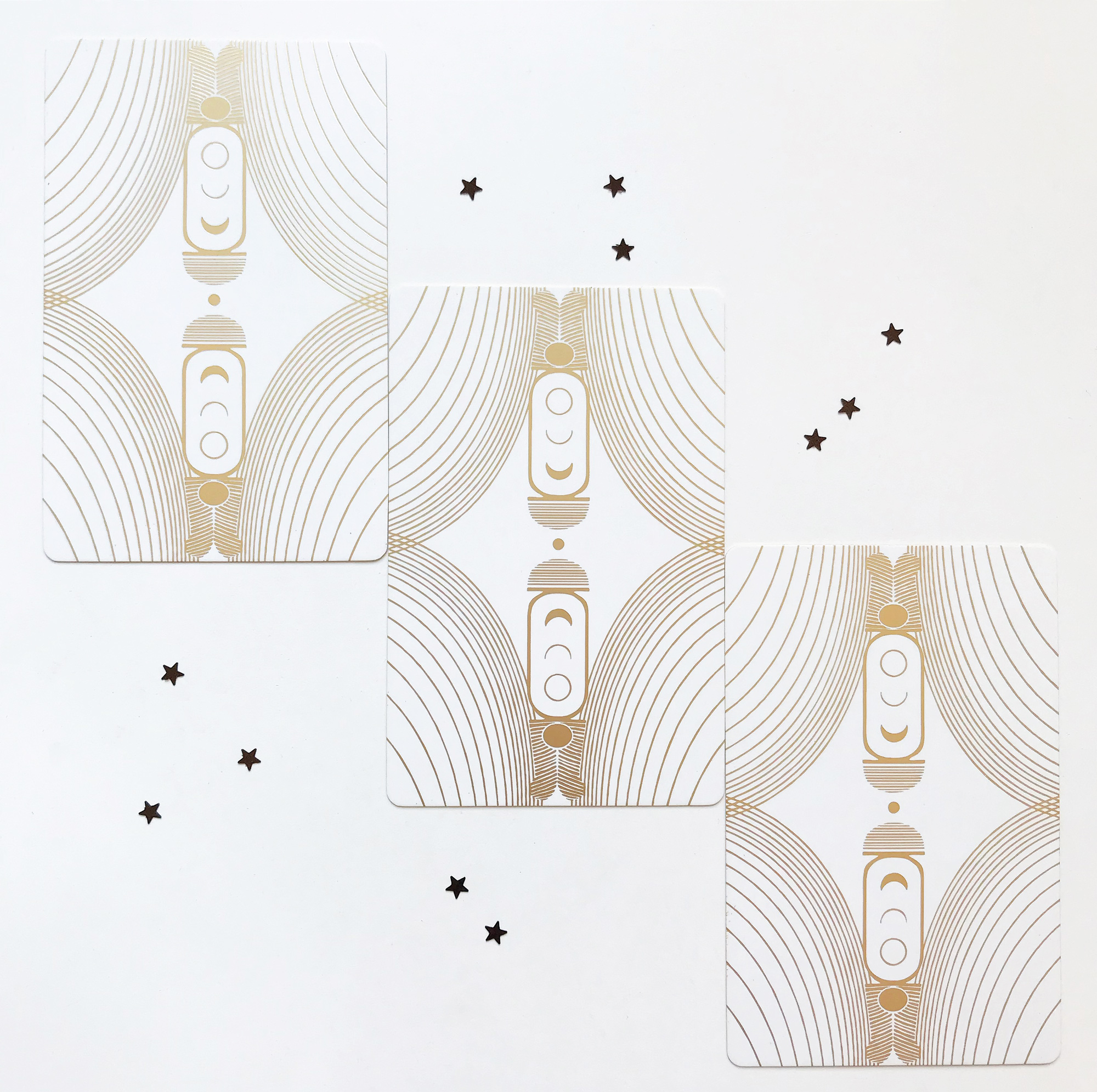 New Moon Offer

I have FREE KX Pilates classes to giveaway with all orders this week. I have been a brand partner of KX for quite a few years now. I absolutely love their workouts! 50 minutes of reformer pilates and you get results very fast. This is my favourite exercise and I'm so happy to be able to share these amazing FREE passes with you all. I could only get passes to Malvern unfortunately, but they do have an introductory offer of 5 classes for $50. Click here for more info.

YOUR MESSAGES REVEALED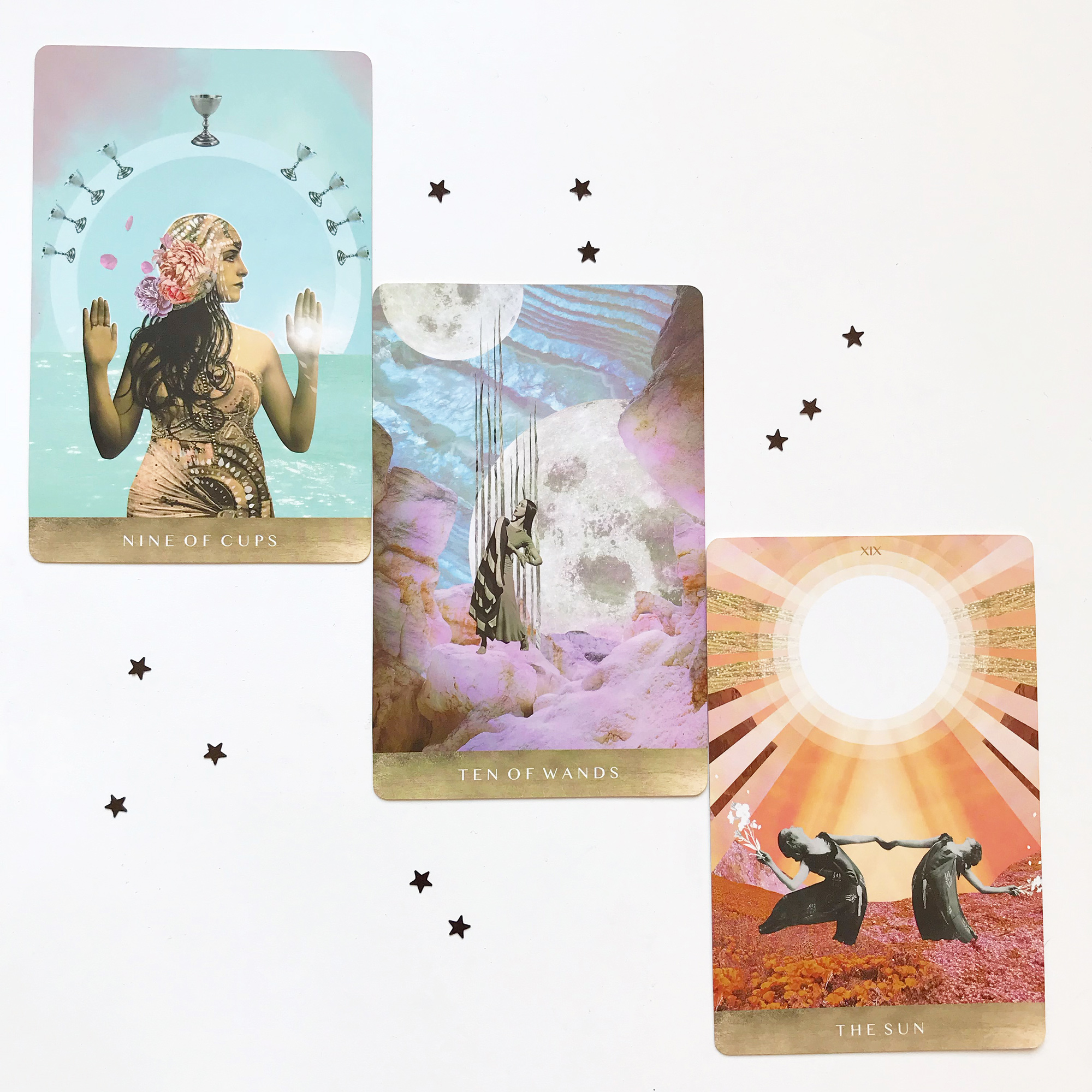 1. Nine of Cups – Standing within a luminous ocean, a mystic uses her inner light to create the life she so desires. From within, she overflows with joy and peace, reaching a state of true fulfilment. This comes as a result of treasuring the precious connections and gifts in her life. The cups overhead represent this soulful abundance.
This is a powerful key that wants to remind you just how sweet the times can be! Often showing up as a new phase of peace and satisfaction, this harmonious oracle is also known as the 'wish card', as it tends to go to the root of those cherished dreams and experiences that replenish our heart and soul. This magic reinforces a sense of stability but also comes with a slight caution: this blessing may not be permanent, so relish it while you can, and accept it with love and gratitude. When placed with other cards, the Nine of Cups can act as an enhancement of their energies. For example, when with Pentacles , it may be a strong indication of financial strength or material wealth coming your way. Look to the surrounding cards for its underlying message. Now, at last, is your time to enjoy life's well-deserved pleasures and luxuries. Am I ready to receive this gift with gratitude? How am I celebrating my achievements?
Key words –  Dreams. Kindness. Healing. Abundance. Peace. Romantic Fulfilment.
2. Ten of Wands – A young woman stands to rest at the crest of a desert mountain. The appearance of two moons depicts the cycle of time that persists and shifts. Perched at the woman's back are ten tall wands, representations of the attached burdens that she must carry with her. In this space she is unable to move on until she has dealt with these lingering energies.
The Ten of Wands reflects our sense of being overburdened by responsibilities, when we find ourselves overworked or somehow out of balance. The appearance of this card may also indicate an emotional attachment or experience that you are still harbouring, which is depleting your energy and distracting you from fully receiving the positive blessings in you life. Your initial aspirations or dreams may also seem faded from your present situation if you are losing your creative momentum or drive. Now might be a good time to accept help from others and prioritise what is truly necessary. HO ware you gaining wisdom from your actions? What can you remove or cut out, in order to reduce some of the pressure on yourself? What can I release or let go of at this time? How can I shift these heavy energies or attachments ?
Key Words – Burdens. Balance. Overwhelm. Release. Goals.
3. The Sun – Dancing beneath the golden radiance of The Sun, two friends rejoice in the brilliance of the day, connecting their hearts as one. This is a sacred inner sanctuary that resides within all of us. It sums up the best and brightest times in our lives, after all of the winding paths and forks in the road have led us to these moments of blissful peace.
The gentle message of this key connects directly to your heart – the sun of the body – and replenishes your life with warmth and radiance. When its light shines through, all avenues of personal fulfilment and success are imbued with abundance, as the Universe supports and nurtures your path. This positive energy also amplifies your inner strength, as your optimism and joy have come to a peak – you realise the underlying current of love that serves your Highest Self, and you are excelling in new and vibrant ways. When you resonate with this high vibration, it is only natural that more light will shine down upon you and the ones you love. Bask in this healing, transformational energy; it has guided you this far. A time to pour all of your enthusiasm and vitality into your dreams. How can I maintain this luminous mindset and light? Am I ready to celebrate the beautiful path of my life?
Key words – Inner child. Success. Soul family. Celebration. Love. Good health. Joy.
The New Moon is a wonderful time to set new intentions and make wishes for this new moon cycle.
I hope these card messages resonated for you at the full moon.
Blessed be!
Love Penelope x
Cards by The Moon Child Tarot
affordable luxury
,
beauty
,
boutique jewellery
,
buy handbags online
,
buy jewellery online
,
designer leather
,
Fashion jewellery online
,
fine jewellery
,
fox
,
guidance
,
handmade jewellery
,
melbourne
,
moonchild tarot
,
new arrivals
,
new moon
,
new moon libra
,
reading
,
spring
,
starchild tarot
,
stars
,
statement accessories
,
statement jewellery
,
sterling silver
,
style
,
stylish mystic
,
tarot