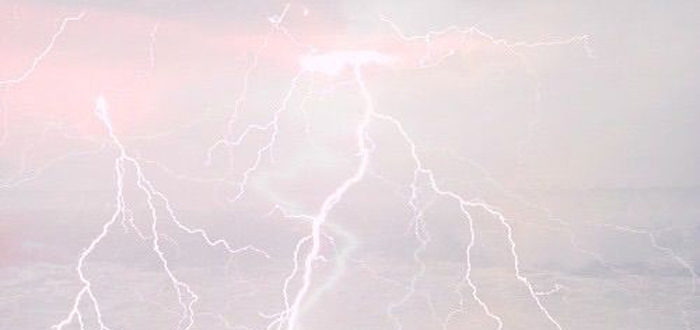 New Moon in Taurus – Cosmic Shifts
Today's new moon falls in the sign of Taurus. Taurus energy is all about security and stability, especially when it comes to the home, family, health and finances. New moons always bring about new beginnings and this one is extra potent as we begin a 7 year cycle of Uranus moving into the sign of Taurus on the same day. Uranus in Taurus will shed light on what areas of your life need radical change or a wake up call for some. Uranus is the great awakener and soul shaker. He likes to open our eyes really wide to see things in a totally new way. Uranus hasn't shifted houses since 2011 (and hasn't been in Taurus for over 75 years!) so prepare for massive endings and new beginnings. You can read more about Uranus in Taurus here.
Let's see what messages the cards have for you at this new moon.
CHOOSE A CARD
Take a deep breath.
Think of a question in your mind.
Choose a card below which you are most drawn to.
Scroll down to reveal the messages.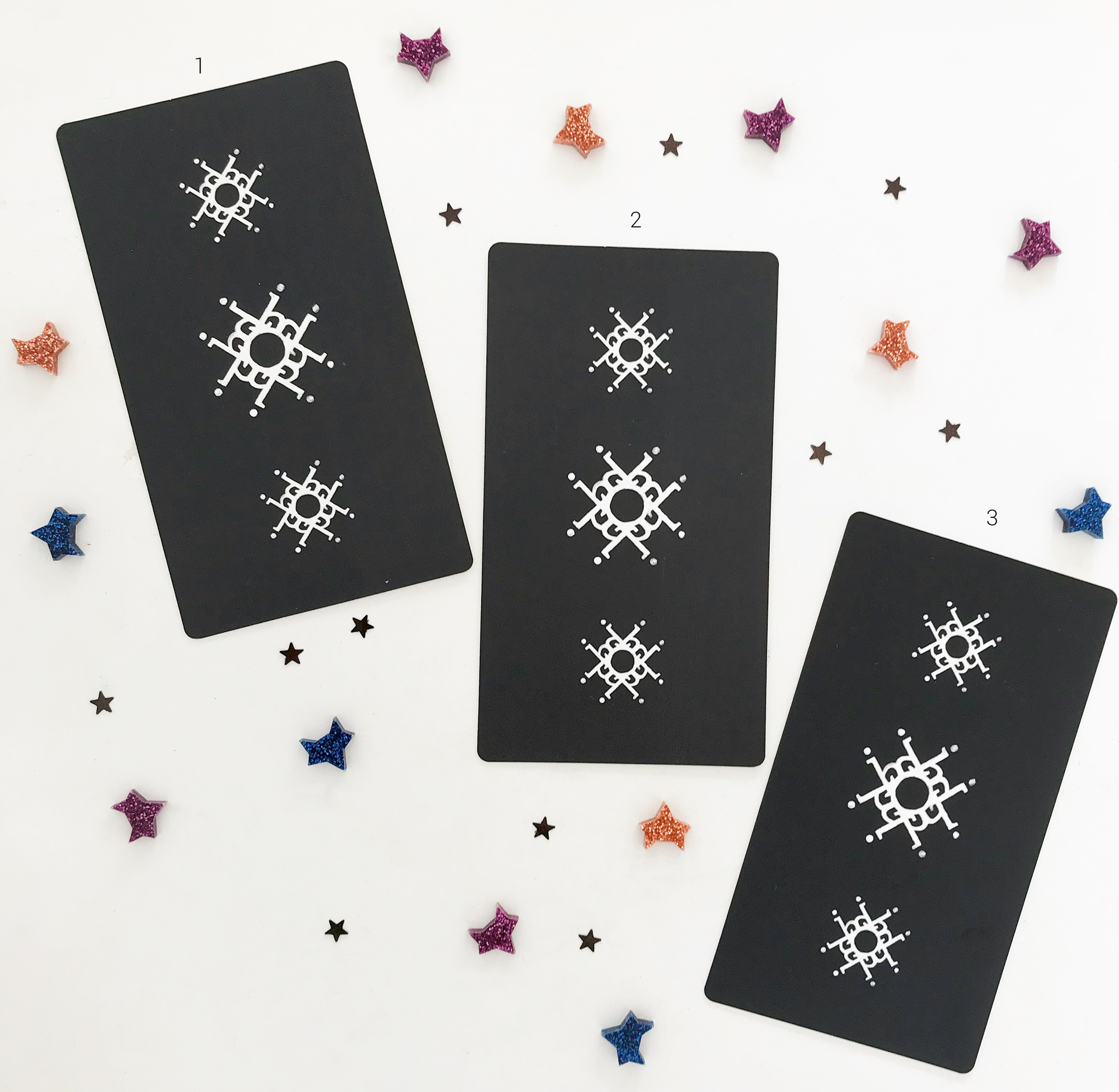 New Moon Style – Luna Earrings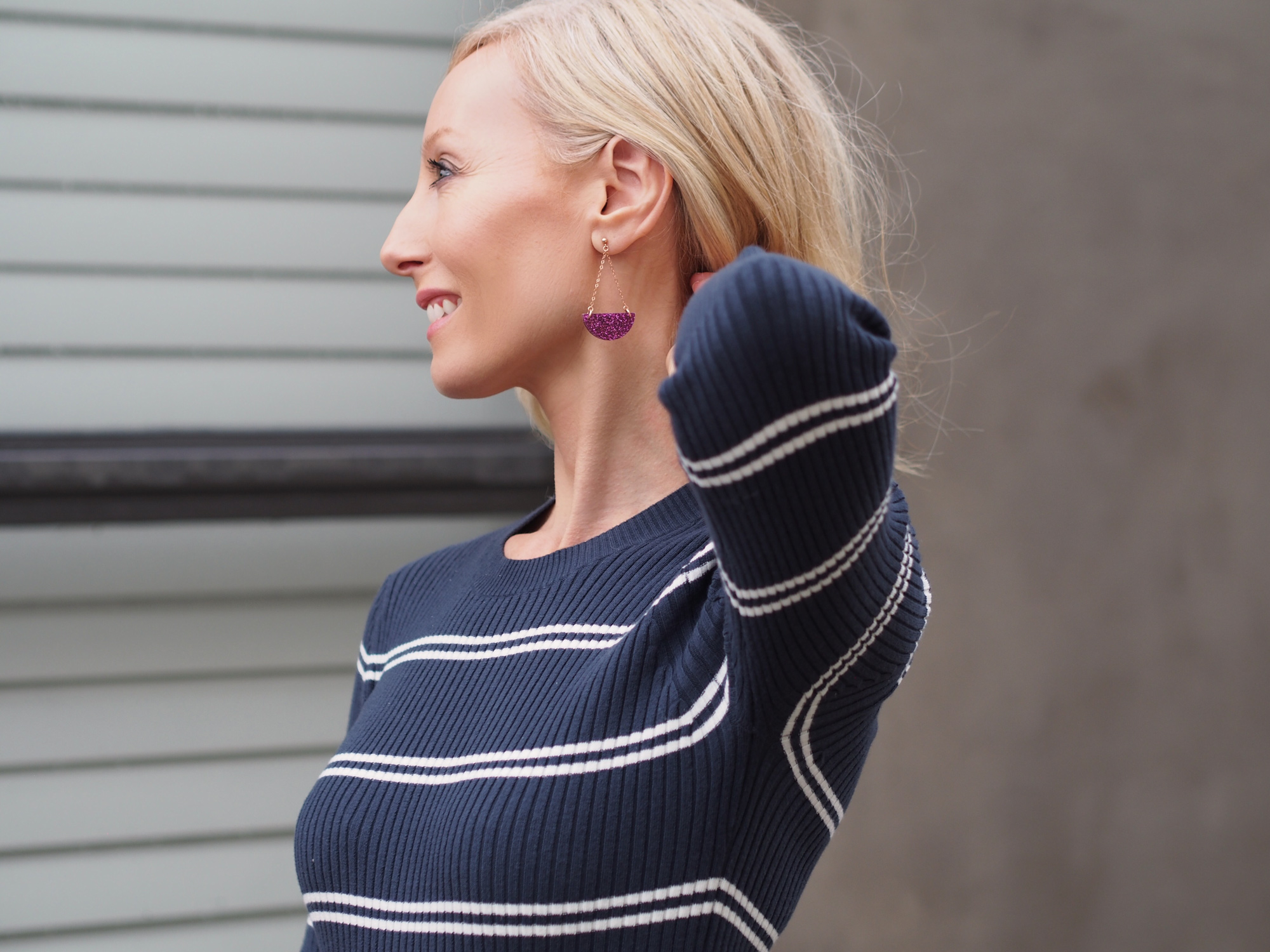 The Luna Earrings have arrived! Just in time for the New Moon. I designed the Luna Earrings as a mystical reminder to always be guided by the moon phases. The are handmade from 14k rose-gold delicate metal and luxe glitter Perspex. I love working with the moon and doing rituals for each phase, it helps me create new designs, connect to my soul for guidance and honour my inner divine feminine.
You may have noticed all the little glitter foxes in this blog post. For this new moon I am giving a FREE GIFT* of our beautiful new glitter FOX earrings (valued at $33) with all orders over $60 or more. Please comment at checkout with FREE FOX GIFT to redeem this offer.
*offer ends Midnight Thursday 17th May 2018, only valid on orders of $60 or more.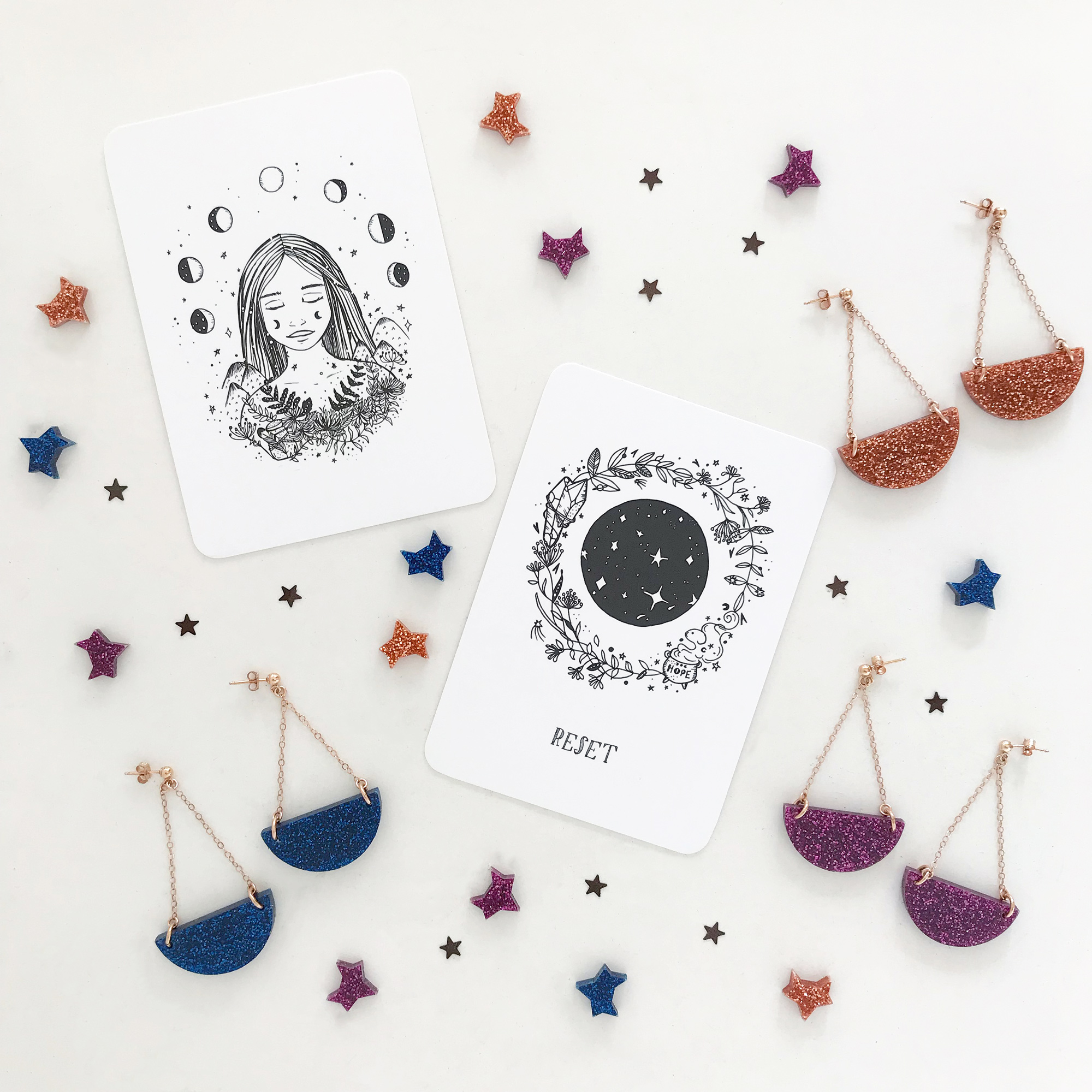 I'm wearing – Luna Earrings in Fuchsia Glitter/Rose Gold, Infinity Bracelet in White/Rose/Gold.
YOUR MESSAGES REVEALED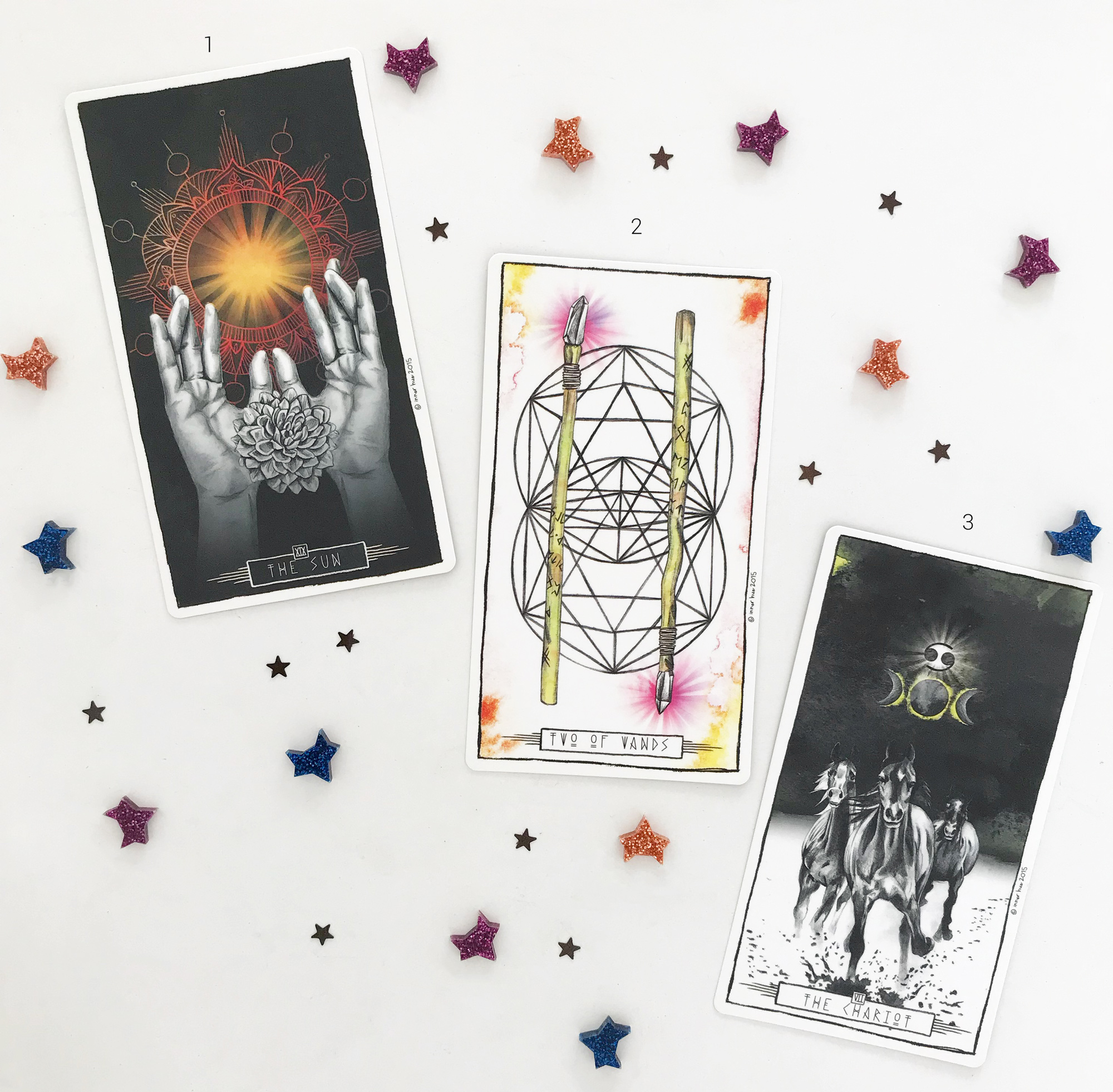 1. The Sun – Radiate who you are , soak up life's rays. You are reaching a period in your life where you are able to shine! Light radiates from you, you are energised and vital and able to gift your light to all those that you come into contact with. The Sun is a card of warmth, blessings and success. it is a time when you can really feel your own power and see the bright and grand vision of what makes you truely happy. You may be beginning to recognise, explore and harness previously untapped or underdeveloped talents. It feels exciting and liberating to know that there are landscapes within you that remain untouched! If you receive this card in the aftermath of tough times, take refuge in it. Know that enlightenment and energy are on their way to you! Stop holding yourself back and begin to shine! As soon as you start to emanate your own vibration you will be met with an abundance of energetic projection in return. Take time to enjoy life. Get outside and play in nature. Count your blessings and know that the adventure you have embarked on will lead you to the fulfilment and success you yearn for.
2. Two of Wands – Step outside of your comfort zone. This is the coupling of intuitive knowing and emotional intelligence, with logical action and planning. You've taken an inspired spark and run with it! Now is where you begin to actively weave it into life. Often you'll find yourself toggling between daydreaming and soul-visioning, only to  proactively make a 'to-do' list ensuring that this new venture gets off the ground. You're in the process of re-evaluating your responsibilities and re-scheduling your days to ensure that time and focus is given to achieving the short and long terms goals you have set. You are feeling very aligned, and ready for this next vibrant stage of your life. Right now though you are being called to step outside of your comfort zone. To think about your life and your desires in a new way and begin to really discover the seeds of potential and yearning that lie within you. You are ready to explore new worlds, so see this card as an omen of encouragement and acknowledgement that you can make this happen. Steady and focus your energy, and move forward with confidence.
3. The Chariot – Align your energy. The Chariot represents your inner strength, confidence and willpower. It is a card of action and momentum. You are being called to focus on yourself. Use disciplined determined action to bring life to your vision and desires. It is a time of summoning all of your energy and intent towards not only your physical journey but also your spiritual one, to achieve the kind of fulfilment you are seeking. The Chariot is your aligned energies. The more you are able to stabilise your vibration, he greater the energy and momentum you will create. From a place of inspiration and vision you can ride on the back of wild horses to reach the heights of success for which you are ready. Challenges and obstacles will be a source of opportunity and growth, diversifying the experience and developing additional strength and wisdom within you. This card may come as confirmation that you are indeed co-creating with the universe in a dynamic and powerful way toward your end goals. Enjoy the adventure you are on! However, this could also be a warning that for you to create movement and change within your life, you are to keep your eyes on the prize. Pay attention and commit to the whole experience as an awakened being. You are being given what it is you are projecting. So what are you projecting? Where does your focus lie?
The overall message with all the cards for this new moon in Taurus is you are being asked to step outside of your comfort zone to bring this change into your life, if not the universe will force change upon you. Once you step up things will move ahead very fast. It's your time to shine and radiate your inner light to the world.
Love and blessings,
Penelope x